Although it's not Black History Month, it's never too early or too late to check out some good black community-centered TV shows, right? The popular American streaming platform, Hulu, has a wide range of black-centered TV shows that you can watch in 2023.
For all streaming enthusiasts around the world, we have created a list of popular, critically acclaimed black shows on Hulu. Check them out and expand your watchlist.
Watch Best Black Shows on Hulu in 2023
If you enjoy watching Black shows on Hulu, you are in for some great choices! Hulu has different types of shows like dramas, comedies, reality shows, and romantic. Take a look at the best Black shows on Hulu, find out when they were released, see how viewers rated them, and enjoy a great time watching them.
Here is the list of 11 Black shows on Hulu with their release dates:
Queen Sugar (2016)
Women of the Movement (2022)
David Makes Man (2019)
Black-ish (2014)
Snowfall (2017)
The 1619 Project (2023)
UnPrisoned (2023)
Star (2016)
Godfather of Harlem (2019)
Rel (2018)
Atlanta (2016)
1. Queen Sugar (2016)
Director: Ava DuVernay
Writer: Anthony Sparks
Cast:
Rutina Wesley as Nova Bordelon
Dawn-Lyen Gardner as Charley Bordelon West
Kofi Siriboe as Ralph Angel Bordelon
IMDB Rating: 7.8/10
Rotten Tomatoes rating: 64%
Queen Sugar revolves around the Bordelon siblings inheriting their father's 800-acre sugarcane farm, delving into their personal lives, relationships, and the complexities of managing the family business. It also highlights social issues in the American South, making it a compelling exploration of family, identity, and dreams.
2. Women of the Movement (2022)
Director: Gina Prince-Bythewood
Writer: Marissa Jo Cerar
Cast:
Adrienne Warren as Mamie Till-Mobley
Tonya Pinkins as Alma Carthan
Cedric Joe as Emmett Till
IMDB Rating: 7.6/10
Rotten Tomatoes rating: 91%
Set in 1955 during the early days of the movement for civil rights, Women of the Movement follows Mamie Till-Mobley's quest for redress following her son Emmett Till being tragically killed in the racially divided South. Mamie's courageous fight against racism became a pivotal moment in American history, sparking change that continued into the 1960s.
3. David Makes Man (2019)
Director: Michael Francis Williams
Writer: Tarell Alvin McCraney
Cast:
Akili McDowell as David Young
Alana Arenas as Gloria Young
Isaiah Johnson as Skyrocket
IMDB Rating: 7.5/10
Rotten Tomatoes rating: 100%
In a disadvantaged Florida neighbourhood filled with broken dreams, teenager David faces a challenging future. Coping with the loss of a dear friend and supporting his struggling mother in poverty, David's prodigious talents might not be enough to escape his circumstances.
4. Black-ish (2014)
Director: Kenya Barris
Writer:  Kenya Barris
Cast:
Anthony Anderson as Andre Dre Johnson
Tracee Ellis Ross as Rainbow Johnson
Yara Shahidi as Zoey Johnson
IMDB Rating: 7.3/10
Rotten Tomatoes rating: 92%
Black-ish is a sitcom centred on the Johnson family, led by Dre and Bow. Dre, a successful ad executive, and Bow, a doctor, strive for a comfortable life in an upper-middle-class neighbourhood. However, Dre worries that their children are losing touch with their cultural identity. The show humorously addresses race, identity, and family dynamics in modern life.
5. Snowfall (2017)
Director: John Singleton
Writer: Eric Amadio
Cast:
Damson Idris as Franklin Saint
Carter Hudson as Teddy McDonald
Emily Rios as Lucia Villanueva
IMDB Rating: 8.3/10
Rotten Tomatoes rating: 92%
The compelling drama series Snowfall takes place in Los Angeles in the 1980s amid the crack cocaine crisis. It explores the lives of characters like Teddy McDonald, a CIA agent, Franklin Saint, an aspiring street vendor, and Lucia Villanueva, a Mexican crime lord's niece. The dangers of the drug trade and the significant social repercussions it causes are central to their travel experiences.
6. The 1619 Project (2023)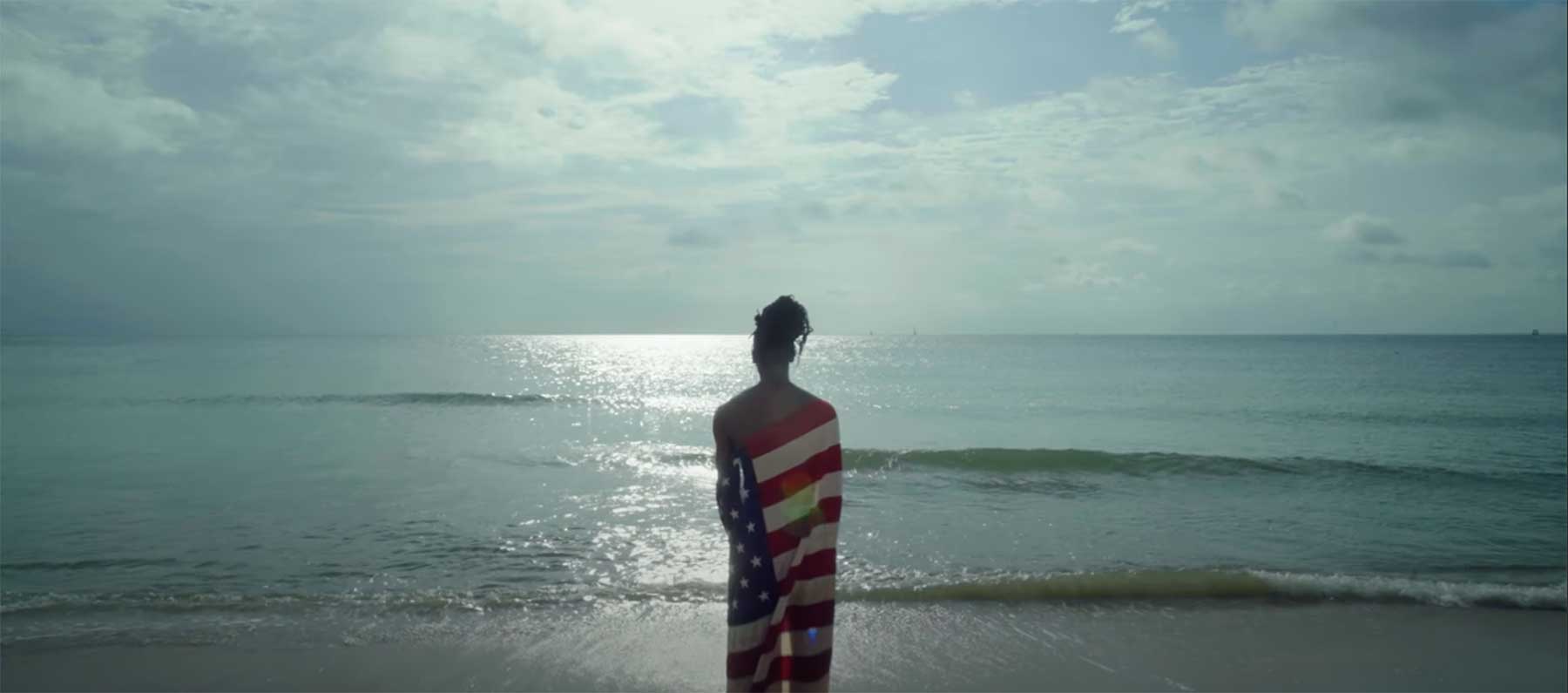 Director: Roger Ross Williams
Writer: Nikole Sheri Hannah-Jones
Cast:
Oprah Winfrey.
Nikole Hannah-Jones.
Shoshana Guy
IMDB Rating: 4.8/10
Rotten Tomatoes rating: 93%
Redefining the nation's history involves highlighting the enduring impact of slavery and the significant contributions of Black Americans within the core of the country's story. The legacy of slavery continues to influence various aspects of modern American society.
7. UnPrisoned (2023)
Director: Shiri Appleby
Writer: Tracy McMillan
Cast:
Kerry Washington as Paige Alexander
Delroy Lindo as Edwin Alexander
Jordyn McIntosh as Little Paige
IMDB Rating: 6.9/10
Rotten Tomatoes rating: 93%
A therapist who is very careful but sometimes a bit messy has her life change when her father moved in with her and her teenage son after being released from prison. They all learn about each other, heal, and deal with family challenges, leading to surprises and life lessons along the way.
8. Star (2016)
Director: John Krokidas
Writer: Tom Donaghy
Cast:
Jude Demorest as Star Davis
Brittany O'Grady as Simone Davis
Ryan Destiny as Alexandra Crane
IMDB Rating: 6.7/10
Rotten Tomatoes rating: 37%
Faced with the oppressive rule of their callous foster mother, two determined 17-year-old girls make a daring choice to reclaim their freedom by slipping away to an adult-only party. As the night unfolds, they find themselves on a journey of self-discovery, forging unbreakable bonds, and discovering the power of their own strength.
9. Godfather of Harlem (2019)
Director: Keith McQuirter
Writer: Chris Brancato
Cast:
Forest Whitaker as Bumpy Johnson
Vincent D'Onofrio as Vincent Gigante
Ilfenesh Hadera as Mayme Johnson
IMDB Rating: 8.1/10
Rotten Tomatoes rating: 86%
In the early 1960s, a famous crime boss named Bumpy Johnson got out of prison after ten years. But when he returns, he sees that his old neighbourhood is in bad shape. The Italian mob now controls the streets, so Bumpy decides to fight them to take back control.
10. Rel (2018)
Director: Gerry Cohen
Writer: Lil Rel Howery
Cast:
Lil Rel Howery as Rel
Sinbad as Dad
Jess Hilarious Moore as Tiffany Carmichael
IMDB Rating: 4.5/10
Rotten Tomatoes rating: 44%
In Rel, a loving husband and father, discovers his wife's affair with his barber, complicating both his personal and grooming life. With the whole neighbourhood gossiping, he leans on his candid best friend Brittany, wayward brother Nat, and proud dad. As his kids move away, Rel navigates long-distance parenting while diving back into the dating world, often facing humorous mishaps.
11. Atlanta (2016)
Director: Hiro Murai
Writer: Donald Glover
Cast:
Donald Glover as Earnest Earn Marks
Brian Tyree Henry as Alfred Miles
Lakeith Stanfield as Darius Epps
IMDB Rating: 8.6/10
Rotten Tomatoes rating: 98%
In Atlanta, two cousins, Earn and Alfred, navigate the city's music industry to better their own lives and support their relatives. A young manager, Earn works to grow his cousin's rap career, while Alfred, known as Paper Boi, strives to balance his music success with street life. Darius, Alfred's creative partner, and Van, who is also The mother of Earn and his closest friend his child, complete the close-knit group.
Wrap Up
We have only listed 11 best black shows on Hulu in this blog, but we all know Hulu's content collection far more vast than that. We recommend watching all these amazing highly engaging black shows on Hulu with your friends and family. Kick start your streaming journey today and explore the black culture.
Also Read